Posted by Charissa Iskiwitch on
African Violet
provides a calming, nurturing energy during intense changes and feelings of chaos or being overwhelmed.  Use it to calm own during times of emotional trauma.
Posted by Charissa Iskiwitch on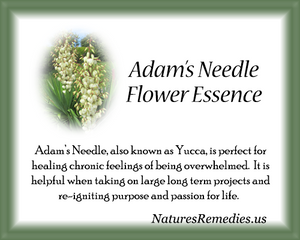 Adam's Needle, also known as Yucca, is perfect for healing chronic feelings of being overwhelmed.  It is helpful when taking on large long term projects and re-igniting purpose and passion for life.